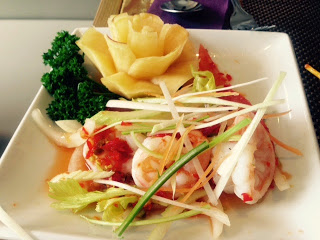 Fiery hot king prawns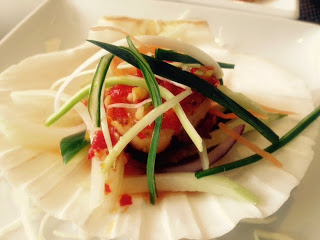 Succulent scallop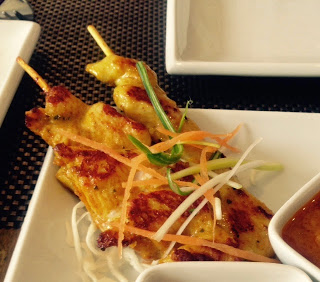 Moist and tender chicken satay
Having met one of my oldest and dearest friends in Stratford for an almighty catch up, the two most important items on the agenda (apart from checking out when Othello was going to be playing) were lunch and dinner.
Being the fat cats that we are meant not straying too far from the hotel, so we decided to mooch into town and soon came across this rather nice looking establishment with a daft name.
I had never seen Thai tapas before and as both of us were a fan of small plates, in we went. I later read that there are 13 Giggling Squids round the country which rather surprised me, as it didn't have a 'chain' feel to it at all.
Anyway, down to the food. The menu was small and very appealing. I'm a huge fan of heat and depth, both of which are abundant in Thai cuisine.
So, whilst dipping the crackers into a sweet and tangy sauce, we chose our tapas and they came out promptly.
By far my favourite dish was the satay. The chicken was exquisitely moist and alongside the peanut sauce there was also a sweet, honey and chili dip which was scooped up with unladylike greed by both of us.
The prawn dish which packed a punch was fresh, the seafood juicy and plump with just the right amount of heat and sourness.
The scallop dish was a little mean with just one lonely scallop served, but was dressed in a wonderful, zingy, lime and chili sauce.
The beef salad was hottest of all – not for the faint hearted but again, the depth of flavour and the really fresh salad in which it was served made for a delicious mouthful.
My least favourite was the duck in baby leaf – it was overcooked and a little dull.
The dishes were washed down with a couple of large glasses of decent Pinot Grigot Blush and I finished the meal with a green tea.
The service was prompt and pleasant, the meal more than enough for two people and including service (at 10% not the usual 12.5%) came to just over forty pounds. I would call that a result. Stratford is teeming with tourists at all times of the year and this would normally guarantee a huge hike in prices. Not so here, which proves you don't have to be greedy to be successful in the food business. I was pleased to note that by the time we left the place was heaving. Giggling great grub.
Giggling Squid
23 High Street
Stratford Upon Avon
CV37 6AU
01789 268733
gigglingsquid.com