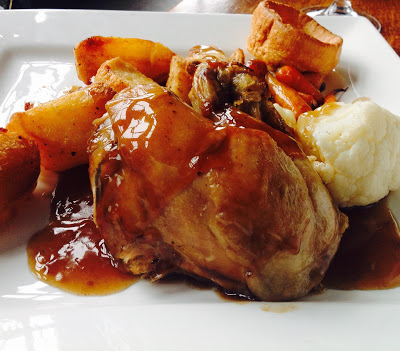 We've all been there – a friend's house, looking forward to a comforting and rather Gargantuan British roast lunch.
You've bought a splendid bottle of Rioja for the rare beef, a Greco di Tufo for the roast chicken. And then you spot the bloody gravy granules, the murdered beef, chicken drier than a Wodehouse novel, vegetables limper than Larry Grayson's wrist…. you get the picture.
There is an art to bringing everything together at the same time, no doubt about it. So, in the spirit of sharing some tips, adhere to the following and bin the bloody granules.
The Meat


Need I say that the star of the show ought to be of very good quality. I certainly can't afford rib of beef on a regular basis, but don't be tempted to buy the bargain cut price joints in your local supermarket. I would rather serve a splendid piece of pork belly with all the trimmings, rather than a cheap piece of leather. It's the same with birds; "value' chicken – I can't think of anything worse.
The Vegetarian


The marvellous Felicity Cloake's description of 'sawdusty disappointment' for most nut roasts couldn't be closer to the truth. Her recipe is brimming full of flavours – she uses parsnips, savoy cabbage, hazelnuts, chestnuts and Stilton (google how to prepare the best nut roast). If you can't be bothered to put some love into feeding your friends, ditch the roast and prepare a sauce of roasted cherry tomatoes, sliced garlic and finely chopped chili with a splash of white wine and some parsley tossed into spaghetti, rather than offer up a commercially made brick from a supermarket.
The vegetables


Is it just the British who consign their vegetables to boiling hell? Bye bye nutrients, flavour and texture, hello bland, baby mush for toothless octogenarians. STUDY the time that it takes to cook vegetables at their best. The internet gives us NO excuse for being ignorant and if you're a poor Luddite, go to the library and read, read, read. Please buy organic veg if you can, by the way, as it's completely worth it.
Timings


The best way to keep track of all of the goings on in the kitchen, is to make a list of instructions. It may be a pain in the arse to painstakingly write everything down, but once you have done it, you'll have a reference for always.
Sauces


Mint, apple and cranberry sauce – why the hell would you NOT make your own – in a thrice may I add.
Three ingredients can make a wonderful sauce – pour freshly squeezed orange juice into a pan, add some sugar and dissolve. Stir in some cranberries and cook for about five minutes. Voila – far superior to the over sugary gunk so often gracing our plates.
The Gravy
I've had some shockingly bad gravies, some in over priced restaurants I hasten to add. The colour is muddy and the flavour is as authentic as Dolly Parton's boobs. If your meat is of the finest quality, there is NO need for adding powders or granules to your final sauce, as it will yield a good amount of liquid. I always add red or white wine into a roasting pan, half way through cooking, depending on the meat. Home made stocks are fine to add when you've poured all the juices into a saucepan, and I suppose a good quality commercial stock is just about acceptable. I don't like to use flour either – reduce, reduce, reduce. Let's have a granule amnesty and consign them to room 101.
Roast potatoes


So often a disappointment. Bullet like, no golden crust hiding a soft, fluffy, creamy inside.
To avoid breaking teeth, pre-heat the oven to 190oC, peel Maris Pipers, make sure the potatoes are of even sized pieces and par boil for about 8 minutes. Drain and put back into the pan. Season with salt, put on a lid and shake for a few seconds. Tip into a roasting tin with hot goose fat and they should be ready in about forty minutes depending on the size you have cut them to.
The Yorkshires


Again, why on earth would you buy them? You just need a piping hot, well oiled cup cake tray, smooth batter and fifteen minutes to create a fluffy heaven. Oh and by the way, you can serve Yorkshires with whatever meat you like. Sod tradition.
The wine


If I had turned up to someone's house with a bottle of Bull's Blood or an Asti 'Spewupme', the look of horror would be justified. Just as granules cannot be defended, cheap wine is just as guilty. Don't do it.
The people
Lastly, food is never as important as the people. If you're too stressed to knock up a roast, make some fabulous chicken liver pate, (pence and ridiculously easy to make) buy some fabulous cheese, some sourdough and make a big green salad with a gorgeous dressing. Done.
Enjoy your lunch, however you get there.