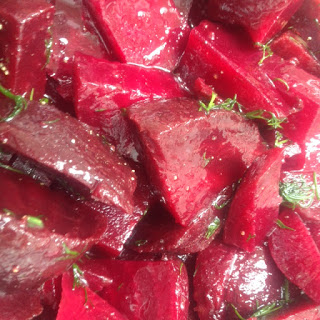 Beetroot and dill both take me back to Poland where they are used extensively in traditional dishes.
This dish couldn't be simpler and also works really well with smoked salmon for a lovely lunch.
TIP Make sure you buy the cooked beets in natural juice and not in that vinegary hell.
Serves 4 as a side dish
4 medium beetroot
4 tbs extra virgin oil
juice of 1/2 a lemon
small handful of finely chopped dill leaves
pinch of Maldon sea salt and black pepper
Cube the beetroot, place in a bowl, dissolve the salt in the lemon juice, pour over the beets with the oil and fold in the dill. Simplicity itself.