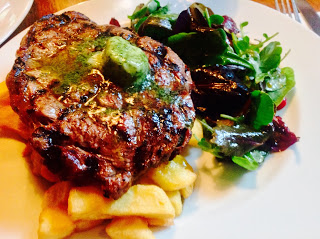 Gargantuan juicy steak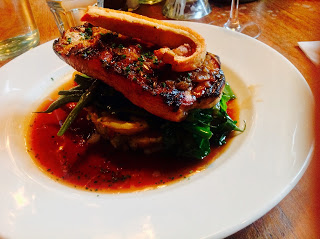 Beautifully cooked pork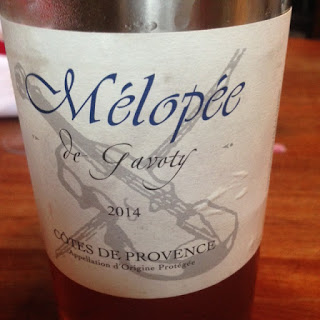 Very disappointing Provence rose
A Monday deal on The Island's website had me and my business partner hotfooting it to NW10 for a couple of steaks and a bottle of house red for the princely sum of £25. Terrific, I thought to myself; many eateries in and around Kensal had managed to rob me blind and I was looking forward to a carnivorous delight for a very good price.
Well, let's get the first massive 'herumph' out of the way, shall we? Not only were the daily deals not applicable anymore, the menu was completely different to the one on the web. Is there ANY excuse for this? None whatsoever.
Anyway, as the readers of the blog know, I am a lover of Provence rose and so we chose The Melopee de Govoty, a wine I'd not heard of. At £27 quid a pop, I expect a lot from a bottle. It just didn't hit the spot at all. I wasn't expecting a Sainte Marguerite but for that money, the familiar, summer fruit heaven and long, lingering dry finish were just absent.
To the food then. I had been hankering for a steak and so ordered the rib steak with tarragon butter, chips and salad and the pork chop for Zina with greens, crushed potatoes with an apple and cider jus.
I'm very happy to report that both were very good indeed. The large steak was perfectly rare, the chips pleasantly crunchy and the salad, if not a little mean portion wise, was fresh and well dressed.
My biz partner thought the whole plate was a joy to eat, apart from the greens which were just a little too underdone. The jus brought everything together, so often a disappointment in my experience.
I must also add that the staff were professional, cheerful and very apologetic for the misinformation on the web.
Here's the thing though. One main each and a very mediocre bottle of wine came to a whopping £68, including service. I'm sorry, but I expect a superior wine and prices that aren't that eye popping. I know rents and overheads are high but I'm afraid I couldn't justify the bill at all and the verdict was unanimous with regards to the web – they should have honoured the deal, no doubt about it.
As is my lot these days, I left lighter of pocket and heavier of heart.
The Island
123 College Road
NW10 5HA
0208 960 0693
http://www.metropolitanpubcompany.com/our-pubs/the-island/