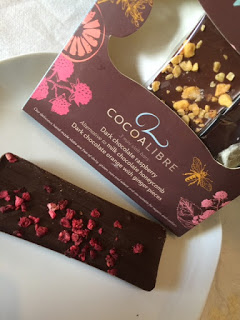 Being a confirmed omnivore there is pretty much nothing I won't eat, except maybe tripe and cinnamon, so being offered a free ticket to the V Delicious show promoting vegetarian and vegan food was going to be something of an adventure.
Now, two of my favourite things are chocolate and beer having tried the organic ale elsewhere in the show I stumbled across the booth selling dairy free chocolate.
I was slightly cynical at the beginning but, after tasting samples, I realised this stuff is pretty damn good.
It's dairy free, nut free and suitable for vegetarians, vegans and Coeliacs. High in cocoa and made with soya, rice or other milk alternatives. I really couldn't tell this from commercial brands of dairy based chocolate.
The delicious dark chocolate with freeze dried raspberry pieces was my personal favourite, lovely acidic bursts of intense raspberry lifting the bar to another level.
The milk chocolate honeycomb made with rice powder was a very close second. The dark chocolate with orange oil with crystallised ginger pieces was also rather excellent.
Lovely hand-made artisan chocolates for kids and grown ups. Looks gorgeous and tastes delicious. It's also dairy, wheat, gluten and nut free, good news!
Now available online and through Holland and Barrett.
Cocoalibre
5 Hilldale Road,
Backwell
Bristol
BS48 3JY
@cocoalibre