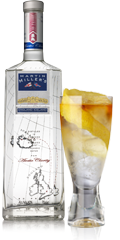 Perusing the website to find out about Martin Miller's gin is a fascinating read. From its conception to the final product, the eccentric and rather brilliant brain behind the gin is sadly no longer with us, but if you're a gin drinker and haven't tried this nectar, I would urge you to hotfoot it to your nearest stockist and buy a crate.
Not being an aficionado of spirits in general, I decided to call in the troops for a cocktail and canape evening. And what a night it turned out to be. The first thing to hit me with my very eager guests was the language they used to describe the gin. Almost exactly as the iconic Mr. Miller had described the product that he desired to produce in the first place. Soft, smooth, the distinct citrus hit, the purity of the gin were all reiterated by some very serious gin drinkers. There were thirteen in all and they managed to get through four and a half litres of the stuff before wending their merry way home. Most of them tried a little neat shot and were blown away at how mellow and soft it was.
At this point I should also mention that the company have won a number of prestigious, internationally renowned awards and no wonder.
So what's the secret? Well, without going into all the technical details which you can find on the company's website, it's made from ten botanicals which are blended from the purest Icelandic water.
It's available in a number of retail outlets including Waitrose and Morrisons are about to stock it in 200 of their stores, so it's mercifully easy to get your hands on a bottle .
If I were you, I'd put on my mixologist's hat on and prepare the following cocktail, by far the most popular of last night's offerings. Here's mud in your eye. A healthy heart and a wet mouth as the Irish so poetically say.
North Sea Breeze
Per person
30ml Martin Miller gin
2 tbs lime marmalade
Lychee juice
Pink grapefruit
Slice of lime
1 highball glass
Fill the glass halfway with ice. Pour in the gin and add the marmalade. Fill to the top with equal parts of the lychee and grapefruit juices. Top with the lime. Stir. Add suitably glamorous evening wear and your best drinking buddy with whom to shoot the breeze, as it were. Divine.
http://www.martinmillersgin.com