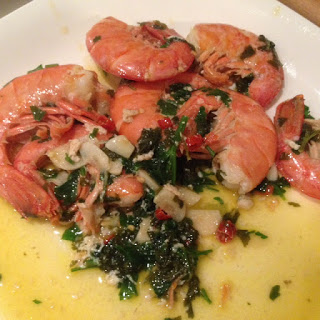 My trip to Spain always involves eating large amounts of seafood and fish. Fresh as a daisy from the local supermarket, cheap as chips and the local greengrocer provides organic veg and herbs which have a fantastic perfume and flavour.
TIP This simple sauce can not only adorn 'gambones', fat, juicy prawns that are quite delicious, but are also a fantastic pairing for most fish, especially plain, white, cheaper fillets if you're feeling the pinch. I also behead the prawns before cooking and use them for stock.
Serves 4 as a starter
20 Gambones or raw King prawns, on the shell
2 small red chilies (or one if you don't like too much heat)
4 cloves of garlic, sliced
1 banana shallot, finely diced
a large knob of butter
1 large glass of dry white wine
4 tbs of olive oil
good handful of finely chopped coriander
Heat a a frying pan and pour in the olive oil.
Turn down to medium and cook the onion and chili for three minutes before adding half the wine and reducing by half.
Now place the prawns into the pan, fry for a minute on each side, pour in the rest of the wine, throw in the garlic, cook for a further two minutes and stir in the coriander and butter. Serve with crusty bread and a well deserved Greco di Tufo.