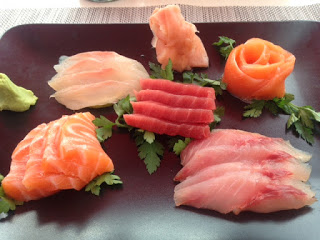 There are very few places in the restaurant world that have taken me by surprise in the UK, due to their modest and or unprepossessing environment. Not so much in parts of Europe of course, where you can treated to first class food in a rural cafe in a small village, mostly patronised by natives.
Having happily discovered that Japanese food has taken off big time in Southern Spain, an hour's wait for my pal to have her haircut at the very elegant 'Reflexions' in the same centro plaza (near Puerto Banus brought me to Eat Asia, a modest little outdoor cafe that Pan Asian food.
An extensive menu had me a little worried, but as I was in the mood for Sashimi, I decided on the mixed plate, which turned out to be a stunning plate of food that I never dreamed could be of the finest quality and taste.
For those who haven't had the pleasure of eating raw fish, the rules are simple. Spankingly fresh fish is partnered with wasabi, a fiercely hot accompaniment which come from the same family as horseradish and mustard, soy sauce, slithers of pickled ginger and finely shredded daikon, a winter radish which sadly they don't seem to have in Spain.
I've also heard that the Spanish adore mayonnaise and I was once served sashimi with a dollop of mayo on the side, which is rather like serving up ketchup with steak tartare, in other words, unthinkable.
Anyway, I detract. All I can say is this – I was utterly blown away by every morsel that was on my terribly pretty plate. It's by far the best sashimi I've had in Spain and for sixteen Euros that is terrific value for money. One could easily have ordered it as a sharing plate but being the Gargantuan hog that I am, I was extremely happy to scoff the lot all by myself. Fantastic.
Eat Asia
Centro Commerical Plaza
Local 4
29660 Nueva Andalucia
Tel. 952 81 57 12/ 691 011 163
www.newasiamarbella.com