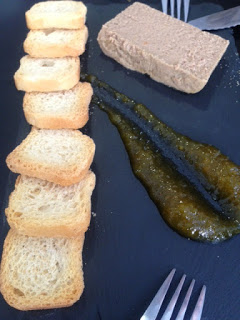 light as a feather chicken liver parfait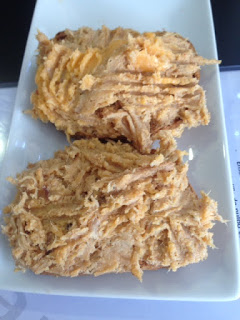 meaty pork heaven
The first thing I'd like to say about this lovely little tapas bar is that I would hire the staff in a heartbeat. In particular our waiter Samuel was simply brimming with natural charm and could not have done more to make our meal a thoroughly enjoyable experience indeed.
Tapas in Spain are not sharing plates as you find them over here. They are small mouthfuls of food that are normally exceptional value for money, as is the Spanish wine which comes in at between 2 and 2.50 euros for a large glass.
I neglected to ask how long they had been opened for as the furniture looked very new but we were treated to a couple of free dishes, one of which was an outstanding rillette style potted pork on toasted bread; Spanish love their pork dishes and this was a great start to our meal.
What followed was a lesson in simplicity and quality. Chicken livers and heart in a pool of garlicky oil, a superb chicken liver parfait with a sweet and sour sauce to cut into the richness of the dish, a spankingly fresh salad which came with a delicious lemon and oil dressing, garlicky king prawns and a grilled goat's cheese served with a pepper sauce. A very decent basket of bread and a couple of glasses of the dry house white and coffees later, we were presented with the bill. It was less than 20 euros.
If you are flying or live in Gibraltar, take a drive to Estepona and give these guys a go. I wish them every success.
D'Tapas
CReal No 21
Estepona
29680
951 357 391
Facebook
D'Tapasesteponoa