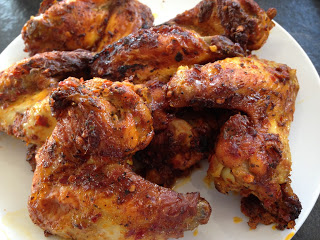 Once you know how to make this easy coating for your wings or your thighs, you'll never want to buy the commercial stuff again.
TIP You can, of course, adjust the heat. I love it but if you're allergic, just omit the chili and use paprika instead
Serves 4
12 or 16 chicken wings
3 fat cloves of garlic, crushed
3 medium red chilis, very finely chopped
1 flat tsp of Maldon sea salt
4 tbs red wine vinegar
1 tbs of sweet paprika
4 sprigs of fresh thyme
6 tbs of olive oil
Pre-heat the oven to 180oC
Place all the marinade ingredients into a large bowl and mix well. Place in the chicken wings, coat all over and leave in the fridge for at least an hour.
Line a baking sheet with foil. Spread the wings out on the sheet, cover very loosely with foil and bake for fifteen minutes.
Remove the foil and cook for a further 10 minutes. Serve with a crispy green salad and some small sweet potato wedges that you've brushed with olive oil, sea salt and paprika and cooked for 25 minutes in the same oven.