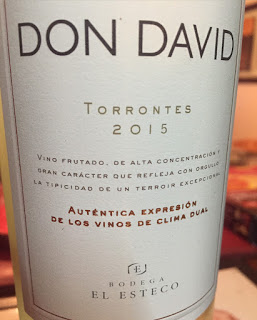 On the opposite corner from my apartment in Buneos Aires I discovered a superb independent wine store, Friendly Wines on Paraguay 699. They have three stores in the city and specialise in carefully chosen Argentine wines that not generally available in the big supermarkets. The manager, Carlos, was exceptionally helpful, guided me through the stock, answered my interminable questions and taught me about some of the less well known Argentine varitals.
Everyone knows about Malbec from Argentina but there are other delights waiting to be discovered by epicurean Europeans. Outside of the wineries in Mendoza there are many regions quietly producing some excellent wines from grapes others than Malbec. Torrontes is a popular white grape variety produced in the cooler northern climate of the Valles Calchaquíes in Cafayate, Salta but rarely seen outside the country.
The harvest is manual, putting the clusters in small 22 kg boxes. In the winery the must is produced using just first press juice. It is vinified with three different techniques: 30% is cold macerated, 60% traditional fermentation and 10% is aged in small American barrels for 3 months. This last 10% goes through malolactic fermentation using selected lactic bacterias.
Golden yellow in the glass, full and sumptuous in the mouth with light acidity on the palate. It has the richness of Chardonnay with the refined mineral acidity of a classy Sauvignon blanc, creamy notes of orange peel, apricot and pear complimented by the vibrant acidity of lime and green apples along with a long silky finish. Easy and pleasant to drink as an aperitif, or paired with seafood or a soft Italian cheese like Burrata.
Not every Torrontes will be this good, but then again, not every Sauvignon Blanc is as good as Sancerrre.
The good news is this excellent wine is available in the uk at £11.50, from Great Western Wines.