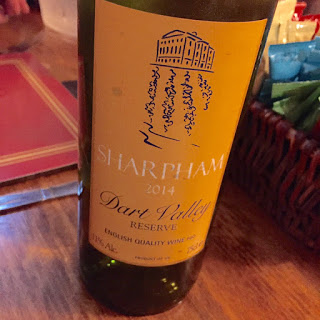 Having family in the West Country gives me the perfect base from which to explore the delicious delights of Devon. This was my second visit to the Start Bay Inn; I adore its location on Slapton Sands, a long spit of open scrub land and beach that looks out across the English Channel, dramatic in winter with crashing waves and moody skies, and superb in Summer with lovely views across Start Bay.
During Exercise Tiger, a D-Day practice run on the beach here in April 1944, the landing fleet was taken by surprise and attacked at night by German E-Boats firing torpedoes into the heavily laden landing craft leading to almost 1000 deaths. It's well worth visiting the memorial and a Sherman tank recovered from the sea in 1984 before heading across the road to the pub.
This is one of my favourite pubs in South Devon for lunch. Low ceilings, flagstone floors, oak beams, cosy nooks with an eclectic mix of locals, day trippers and weekenders from the city. This thatched Inn dates back to the 14th century when it was known as The Fisherman's Arms and used by the local fishermen who worked their fishing boats from the beach in front of the pub. The Start Bay Inn has been run as a family business since 1977.
There are benches and tables outside facing the sea, which are great in summer but on the day I went it was a blustery wind with darkening skies and spits of rain in the air so thought it best to eat inside.
Pints of the excellent local ales, including Otter and Bays, are available along with a short but rather good wine list. There is a staple seafood based menu along with constantly changing specials on the boards depending on what fish was available on the day. They even have their own fishing boat but also buy from local fishermen in Beesands, Brixham and Dartmouth.
We began with a pint of shell on prawns to share, £8.25. A generous portion, pink, plump and juicy, each gorgeous mouthful was followed by a sip of the excellent and well chilled locally produced Sharpham's Dart Valley Reserve, made from a blend of Madeleine Angevine, Chardonnay and Bacchus grapes, £19.50. A zippy, zesty Sauvignon Blanc like wine with a perfect balance between fullness and acidity, an ideal match for grilled fish and battered cod.
My choice for lunch was a whole grilled brill, £12.95, a local flatfish with a lovely delicate flavour. A less famous cousin of the Turbot family, this sustainable ocean delicacy filled the whole plate and was served with a side dish of tasty steamed mixed vegetables and perfectly cooked cunchy chips. Perhaps it would have benefited from a drizzle of melted butter and garlic, which I'm sure would have been available if I'd asked, but it was fabulous all the same.
My brother, being a big lad, opted for a classic jumbo fish and chips, £13.50. The fish had lovely crisp dry batter, revealing the freshest flakey white cod and was accompanied by a generous pot of homemade mushy peas.
Crevettes and Devon crab were also on the menu along with the daily specials of what ever fish and seafood is fresh that day.
We ended the visit with a bracing late afternoon walk beside the sea, feeling the light spray on our cheeks as the waves crashed from the incoming tide before returning back by car in twilight through the small villages of thatched cottages and across the River Dart by chain ferry and back to Torbay.
One couldn't help reflecting what dreadful a scenes of chaos Slapton had witnessed back on that Spring day in 1944. If you are down that way then can take in both the history and some of the most superb fresh seafood in Devon.
Start Bay Inn
Torcross
Kingsbridge
Devon
TQ7 2TQ
@StartBayInn
For the story behind Exercise Tiger visit: