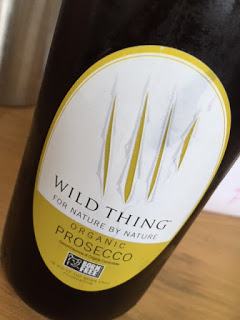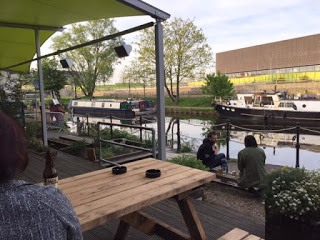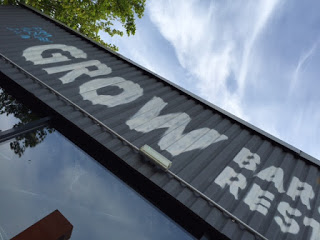 On the hottest summer day of the year I was out in Stratford for an afternoon meeting; having built up a colossal thirst I stopped at the King Edward pub in Stratford High Street for a late afternoon pint. Back in the day when I lived in E15, this was one of my two locals, the other being the Adam and Eve in Abbey Gardens bulldozed for the Jubilee Line sidings and DLR extension near West Ham Station.
With my fenian thirst only partially quenched, and still only 5pm, I took the overground to Hackney Wick to visit London's first 100% sustainable bar. It's only a short walk from the station, passing the imposing Victorian warehouse housing Central Books, then a right turn through a few small business units then, finally down a narrow alley to reach the canal side bar Grow Hackney. I'd been promising manager Daniel Carruthers to pop in for a good 8 months so and seemed pleasantly surprised I'd actually managed to do it.
Grow is a bar, kitchen and creative space, an experiment in ethical, sustainable business and self-sufficient communities set in an old sausage factory opposite the Copper Box stadium on the Regent Canal. Everything they they stock is certified organic, natural, fair trade and sustainable. A high percentage of their supplies are locally sourced, free range, organic and fair trade, sourced from organisations that neither avoid their taxes nor invest in ethically dubious business. They currently pay a London Living Wage at minimum and put as many community events on as they can. They host djs at the weekend and a continually rotating pop up kitchen which has featured quality street food from independent caterers including Spanish, Caribbean, Peruvian, Ghanaian and more.
Spoilt for choice but feeling the heat, my host allowed me to sample their range of wines, however the Wild Thing Organic Prosecco, 11% seemed the most sensible choice to clear the city dust and grit from my throat. Recommended in Vegetarian Living Magazine, September 2015, the bottle arrived cold with film of condensation forming in the summer heat. Pouring into the glass revealed small intense bubbles, and a lovely light straw colour wine. Made in Treviso with organic Glera grapes it has the classic yeasty, biscuity nose with hints of apple and pear fruit. It's zesty, zingy lemon and is immensely refreshing on the palate with a lovely almost beer like dry bite as it washed down. Intense liquid refreshment, an absolute bargain at £14.95; so good in fact my companions and I quaffed three bottles of the stuff on their delightful canal side terrace.
Wild Thing wines are a growing brand, from Vintage Roots, developed in association with the Born Free Foundation. They make a donation for every bottle sold, which goes to directly benefit conservation and animal welfare projects around the world. They only use grapes grown without synthetic pesticides, fungicides or chemical fertilisers. Wild Thing is available direct from Drinks Business Green Retailer of the Year 2015, Vintage Roots at £10.25 who also offer a range of organise wines and beers, both wholesale and retail.
Personally, I'd rather spend my hard earned money with such ventures seeing how much they engage, benefit and improve the communities in which they are based. I'd rather support a small independent business over a corporate chain every time. More and more such ventures are popping up in London all the time, all it takes is a little time and thought about where you go and how you spend. I'll certainly be going back to Grow Hackney and I wish their project every success.
Vintage Roots
Holdshott Farm
Reading Road
Heckfield
Hook
RG27 0JZ
0800 980 5115
@VintageRootsLtd
Grow Hackney
98C Main Yard
Wallis Road
Hackney Wick
London
E9 5LN
0208 510 1757
@GrowHackney