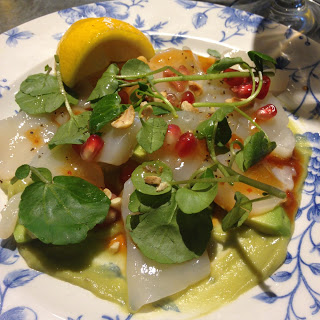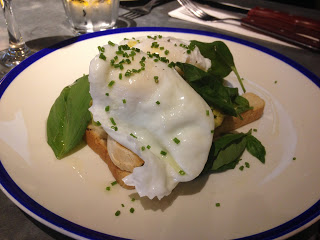 Walking into West 36 feels so utterly 'Notting Hilly' it couldn't be anywhere else. Uber cool, spread out on several floors, a shiny bar with even shinier staff and well heeled, flawlessly elegant customers with a liberal sprinkling of hipsters thrown in for good measure.
The brunch menu looked very inviting and was reassuringly small. Perusing it was made even more enjoyable by the arrival of a bottle of Chatueau Nestuby (£29), a Provence rose with that distinct pale hue so characteristic of the region. Liquid heaven it was too; a terrific start.
Two of us decided to share the scallops ceviche (£10) and the sourdough with avocado, poached eggs and chili (£9.50), whilst my other pal fancied a medium rare burger (£9.50) and triple cooked chips (£4.00).
Now, we arrived at just after twelve and although it was heaving by the time we left, it certainly wasn't busy when we ordered our food. So I thought half an hour was a little too long to wait for the food. When it did arrive, however, impatience was immediately replaced by a chorus of oohs at the plate of scallops, delicately dotted with pomegranate, avocado, lime and sesame oil. I could easily have ordered seconds and I did think it rather mean in terms of portion size. It was what I call beautiful food though, no doubt about it.
The burger was a meaty delight. Very good quality beef, cracking gherkins, wonderful chips, although we had to wait an age for some mayo.
The sourdough with eggs, however, was pretty disastrous. Look, for nearly a tenner you expect a great deal from a snack. Firstly, the dish arrived with a slice from a white loaf rather than sourdough. The waitress came back with the right toast but I think she should have taken the whole dish away and started it again. As it was, it had to be taken away as the eggs, upon gently prodding, refused stubbornly to ooze. They were set. No, no, no. When they were brought back, they were exactly the same. Hunger won over and so we tucked in. No hint of chilli and it was just rather dull. I don't know whether the chefs cook the eggs and then plunge them into iced water, but serving set eggs is a school boy error that just should NOT happen.
We took our filter coffees and tea upstairs to sit outside. Again, a lovely setting and all very chic.
By the time we came downstairs, it was clear that West 36 is incredibly popular. The cocktail menu looks serious, you can privately dine with a group, on a Sunday you can indulge in bottomless Bloody Mary's.
They also give loyalty cards to regulars who can enjoy half priced food during the week. I am sure they are a roaring success. For just under seventy quid I'm afraid our expectations were just not met, although I may just give the Sunday lunch (aged rib, rolled pork belly, Norfolk Grey chicken) a go and give them a second chance.
West 36
36 Golborne Road
London
W10 5PR
0203 752 0530
http://www.westthirtysix.co.uk/
@WestThirtySix
https://www.facebook.com/westthirtysix