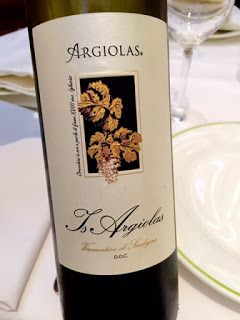 Occasionally you discover wine that really hits the spot, a eureka moment if you will; a real joy to this somewhat jaded palate. I was attending an Italian cookery masterclass at Novikov in Mayfair where one of the dishes we cooked was oven roasted sea bass encased in sea salt crust. The sommelier's choice to pair with this was a stunning Vermentino white from the Italian island of Sardinia. Vermentino is considered be a native grape and has been widely cultivated in Sardinia for hundreds of years.
Now, I must admit, I'm not too familiar with wines from this Mediterranean island, but I had heard good reports from Italian friends. The exceptional Argiolas Vermentino di Sardegna, 2015 was an immediate hit on the nose. In the glass the wine is a light straw colour with slight green tinges. Vermentino spends longer ripening on the vine so notes of ripe apricots and peaches are present, along with hints of almond, melon and even a little honeysuckle.
On the palate the rich creamy depth of this sapid wine is balanced by a bright, dry crisp acidity and citrus minerality gently kissed by winds from the sea. The long finish makes this wine an absolute pleasure and is perfect with fish, seafood or crustaceans. It reminded me of the fine Greek Assyrtiko wines from Santorini, another Mediterranean island with wine that has hints of the sea.
This superb Vermentino retails for between £15-£20, but trust me, it's worth every penny.
@ArgiolasWinery
This wine is available with your meal at Novikov, Mayfair, £34.00 however you can also purchase by the bottle or case from: