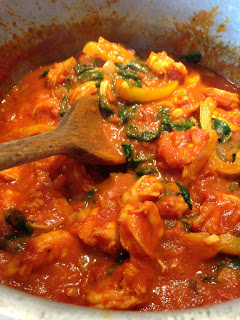 The secret of any good tomato sauce is the quality of the base ingredients, which, of course, in this case are the tomatoes.
If your pocket doesn't allow for San Marzano tomatoes, I like to use the Sainsbury's taste the difference peeled cherry tomatoes. Many cooks of my acquaintance like the Cirio range too.
TIP This can be served with rice or pasta. If you love heat, add a sliced chili when frying the onions.
You can also blend the sauce before adding the prawns for a smoother texture.
Serves 4 generous portions
300gr of raw, peeled king prawns
2 shallots, finely diced
2 fat cloves of garlic, sliced thinly
1 large glass of dry white wine
1 tin of tinned tomatoes
4 tbs of tomato puree
1 small bag of washed spinach
handful of parsley leaves, finely chopped
2 tbs of olive oil
Maldon sea salt and black pepper
Heat the oil in a medium saucepan. Fry the onion (and chili if desired) for five minutes on a medium heat, stirring occasionally. Add the garlic and cook for a minute.
Pour in the wine, turn up the heat and let it reduce by two thirds. Stir in the tomatoes, puree and season with salt and pepper. Cover and cook on a low flame for 15 minutes. Wilt the spinach leaves in another pan and place them in a sieve. squeeze the excess water out with the back of a spoon and stir into the tomato sauce. At this stage you can turn off the sauce until you're ready to serve. Re-heat and drop in the prawns. They will take about three minutes to turn pink and cook through. Try one to make sure they are done.
Serve and sprinkle with the parsley. A bottle of Gruner Veltliner would do very nicely indeed.