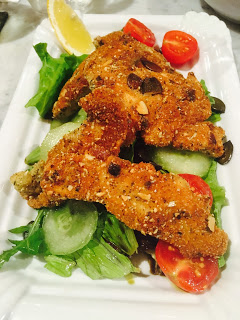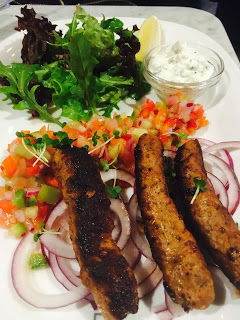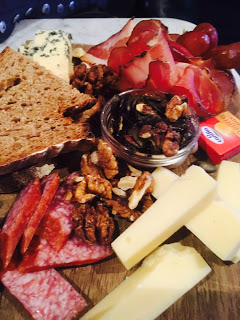 I'm a big fan of small plates. This way you get to taste a myriad of dishes and sharing food is always a huge pleasure.
Thus I was delighted to come across a rather charming Austrian cafe which lies in the heart of the very trendy Golborne road, an area that spoils you for choice where food is concerned.
A local appointment led me to this charming eatery; small, cosy and enviably full. They were turning customers away by the end of our meal, and by then I understood why.
A warm welcome and and the even more welcoming sight of a Gruner Weltliner on the wine menu (£9.90 for a 250ml carafe) made the beginnings of happy dining indeed. It's always rather exciting to see an authentic menu on offer and this was my first foray into Austrian cuisine in the UK.
Fortunately my dining companion, being half German and very familiar with the Austrian culture took over and ordered for us both.
First we dived into the Heurigen snacks, a lovely plate of Tyrolean ham and mountain cheeses, adorned with nuts, seeds and fresh rye bread (£6.50). Generous in portion, the flavours were delicious.
Next came the lamb and beef kebabs, served with a tangy salad garnish (£6.50). If I had a tiny gripe, the kebabs were just slightly over cooked but otherwise a tasty affair.
Most people have heard of Wiener Schnitzel and these mini fillets were golden brown, had a satisfying crunch encasing the soft meat under which was another spankingly fresh salad accompaniment (£7.50). A small bowl of sauteed potatoes (£3.50) finished the meal off nicely.
The only thing I had to complain about was the orange juice. It was just nasty, no two ways about it.
I don't want to end on a sour note as everything else was exceptionally satisfying. Kipferl also serve mains such as spinach dumplings with organic mountain cheese (£10.50) and schnitzels filled with ham and cheese, served with parsley potatoes and cranberry sauce (£16.50). It's the kind of warming, peasant style fare you'd want on a freezing day in December. Oh and don't forget to take home a sachertorte, a rich, super chocolaty affair with apricot jam (£16.00).
Kipferl
95 Golborne Road
London
W10 5NL
0208 969 5852
Camden Passage
London
N1 8ED
0207 704 1555
http://www.kipferl.co.uk/
FB https://www.facebook.com/Kipferl-208474169182605/
Twitter @KipferlCafe