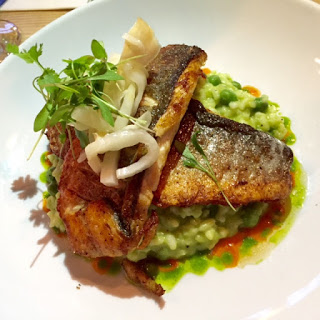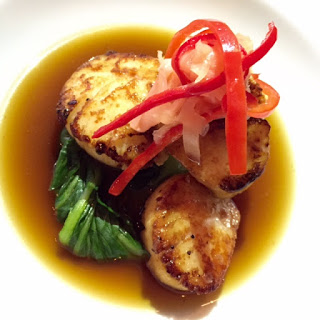 This cosy pub, just off the main drag in Bushey, prides itself on using locally sourced seasonal food. Last time I came here I hadn't booked and, as there was a private function in the restaurant area, had to settle for sampling their excellent selection of ales and craft beers instead.
We arrived starving so went for the most rapid kitchen-to-table item on the menu, hummus and pitta, £3.50. Rich, thick and garlicky it gently eased those hunger pangs and was washed down with a pint of the light citrusy Twickenham Summer Sun Ale.
It was a warm and humid evening and so went for a zesty and refreshing wine, a Granite Ridge South African Chenin Blanc, £15.95. It arrived at the right temperature, a nose full of cool summer citrus and green apple, dry and immensely refreshing in the mouth it's a lovely drop with or without food.
In my experience way too many places serve their white wine at the wrong temperature. There really is no excuse, if your wine is not chilled then just don't serve it! It's all about procedure; invest in a back up fridge to constantly replenish your bar stock. Get this right and you will always have chilled wine to serve.
Feeling like eating something on the lighter side I went for the hoisin duck salad with watermelon, fresh mint with sunflower and pumpkin seeds, £12.95. A delightful harmony of flavours with the watermelon perfectly balancing the fattiness of the duck. A few more chunks of watermelon would not have gone amiss but otherwise delicious.
My dining companion opted for three pan seared scallops with chili, pickled ginger and soy sauce consommé, £9.95. Initially I thought they were overly salty, but once tasted with the other ingredients and a slug of wine, it balanced well with the ginger and fennel. Incidentally I absolutely adore fennel, it's too seldom seen in my opinion.
Lastly pan fried sea bream fillets sat on a moist sweet pea risotto with shaved picked fennel and red pepper coulis, £14.95. This was the stand out dish for me; the crunchy but moist sea bream complementing the slight sweetness of the risotto.
Now I'm not normally one for desserts, something I always seem to say before stuffing my face with one, but the vanilla panna cotta topped with fresh raspberry, £6.50 was absolutely luscious; it was gone before my dining companion reminded me we were meant to share. She ordered the apple and summer fruit crumble with vanilla ice cream, £5.95. By this stage I was in danger of having a Mr. Creosote moment so barely managed a spoonful for fear of exploding; slightly acidic fruit was tempered by the sweerness of the ice cream.
All in all a most enjoyable evening which goes to show there is life out there away from the sometimes overpriced food ghettoes of central London. Food is home cooked and hearty and it's well worth making the making the effort to go Hertfordshire to try this place, I'll certainly be back here. It should be noted they also have a great beer garden for the summer, have won awards for being dog friendly and host a beer festival every year in July.
One of the owners, Robert Beckley, caught me live tweeting and came over to introduce himself. The philosophy of his food was simple, everything should be cooked and served with love, and, let's face it, we could all do with a little more love in our lives.
The King Stag
15 Bournehall Road
Bushey
Hertfordshire
WD23 3EH