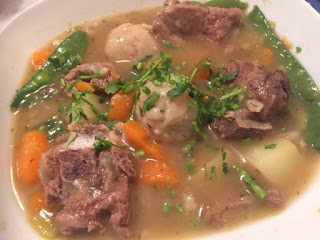 Every year I wait until I feel the first real chill of winter, that intense cold that penetrates your fingertips through to the bone. When the temperature drops below 10c I know it's Irish stew weather; I want to fill my kitchen with the alluring wafts of slowly cooking lamb from this ultimate winter comfort food.
I always buy my meat from my local butcher, Harte's of Harlesden. They sell the freshest, tastiest lamb in the neighbourhood, way superior to any of the big supermarkets which I find rather insipid in comparison. They will also happily prepare the meat in any way you wish, which is great, as their knives are always far sharper than mine.
This recipe will serve around six people with enough left for second helpings.
6 lamb necks, 1kg cut into 24 pieces
6 medium banana shallots
3 medium potatoes, cut into largish chunks
3 medium carrots, sliced
2 celery sticks, diced
1 leek, sliced
handful of mange tout
2 tbls of pearl barley
1/2 bunch flat leaf parsley finely chopped
2 bay leaves
50g butter
1 tbs plain flour
2 tbs of olive oil
1 pint of lamb stock (you can use a stock cube for this)
1 1/2 litres of water
good pinch Maldon sea salt
ground black pepper
Firstly fry the lamb in olive oil, stirring frequently until browned. Add 1tbs of plain flour, stir in for around 2 minutes until absorbed. Add the water and stock and bring to the boil. Add carrots, leek, celery, pearl barley and bay leaf.
In a separate pan fry the chopped shallots until translucent and add to the pot Cover and simmer for around an 1hr 45.
While simmering, prepare the dumplings. Here is what you will need:
120g self raising flour
70g beet suet
pinch of Maldon salt and ground black pepper
1 tbs finely chopped parsley
6 tbs of cold water
Mix the ingredients in a bowl. It's easier to initially mash in the suet with a fork and then continue with your hands. Once you have your dough form into balls with floured hands place and in the fridge to firm up until later. Don't make the balls too big as they will expand considerably while cooking, about the size of a golf ball should be enough. This will be enough to make around 10 balls.
Add the potatoes just before the dumplings as they take the same time to cook. Next, place the dumplings on top of simmering stew, cover and cook for 20 minutes.

Four minutes before serving throw in a handful of mangetout and add 50g of butter to add a little richness and stir through.

Serve into bowls, garnish with chopped parsley and a few twists of black pepper to taste.

The dumplings should be filling enough but if you wish serve with wholemeal Irish soda bread.

Round this off with a digestif snifter of Irish whiskey, Tullamore Dew would be my preferred tipple. Your sated guests will leave with full bellies and glowing cheeks.