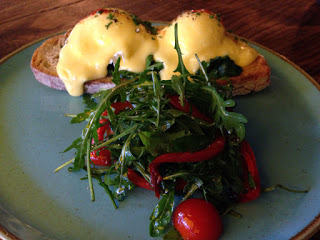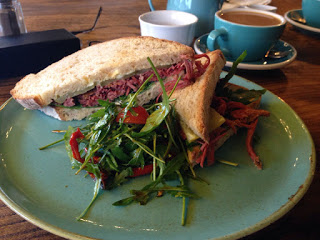 A recent visit to Rubio's for brunch on a lazy Saturday morning in my old hood gave me much food for thought. Harlesden, for those not familiar with this part of North West London, has seen a tremendous hike in house prices and a quite sudden nudge in the direction of gentrification.
With it has come a spate of new food businesses, some of whom have got it so spectacularly and painfully wrong, I cannot imagine the losses incurred.
Then there is Rubio, a cosy, very comfortable restaurant that serves breakfast fare till 3pm, followed by pizzas thereafter. The LP covers adorning the walls along with the rather 'cool' music reveal the two owners' love and involvement with the music scene.
The menu, reassuringly small and interesting enough to please the most discerning of punters, includes various specials that today boasted a salt beef toasted sourdough sandwich with pickles and a side salad. Sold, I said, whilst my companion chose the Eggs Florentine, one of the many dishes that comes draped with my favourite of mother sauces, the silky Hollandaise.
A cheery waitress brought our drinks, a creamy cappuccino and a small pot of breakfast tea, both served in modern, colourful crockery. When the food arrived, I was struck by the generosity on the plate. Slivers of salt beef were piled high between the toasted slices, crunchy pickles adding nicely to a rather splendid mouthful. My friend's plate looked incredibly handsome and the glossy sheen of the Hollanadaise left me no choice but to rudely steal an unladylike forkful. The ensuing silence filled the air, as it were, with that unspoken but easily discernible moment of food happiness. Does it take a genius? No but here are some pointers to the arrogant folk that didn't listen to the local people and are dropping like flies as a result:-
Rubio's got it right from the start.
They obviously did their homework.
The menu is small, simple and full of tempting dishes, all at a very fair price.
The setting is modern, spacious and welcoming.
The ingredients are first class, the cook knows his onions and the dishes are well presented and garnished nicely.
The waiting staff actually look as though they enjoy working in the service industry.
Breakfast came in at just under twenty quid and service is always at the customer's discretion. When we left, no table was empty. Enough said.
Rubio's
43 Park Parade
Harlesden
NW10 4JD
0208 961 9630
FB https://www.facebook.com/RubioLondon/?ref=aymt_homepage_panel
@rubio_london