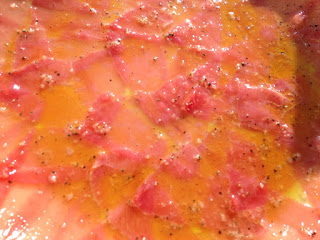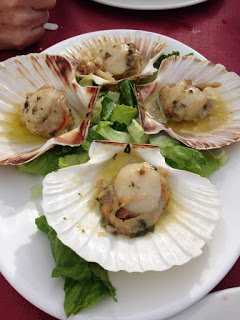 There is a kind of thrill in finding a restaurant off the beaten track that is patronised by locals.
When I walked into La Escorella, near the harbour in Estepona, (not far from Gibraltar) it was like a foody slap in the face. In a good way you understand. The buzz, the vibe, the frantic yet organised fashion in which the restaurant was run; the anticipation was palpable.
If you're after a quiet, romantic meal a deux, don't bother coming here. If you're prepared to wait for half an hour, the din of customers drowning your own voice out, believe you me, you'll come to the conclusion that it will have been worth double the waiting time.
For those not familiar with the wine scene in Spain, they don't use measures. They just pour into large glasses and charge a third of what you would pay in the UK. White Rioja and Verdejo are pretty consistent and at around 3 Eruos a pop it makes eating out a bargain.
Having been seated outside the main restaurant in the sunshine, it made sipping a lovely drop even more pleasurable whilst perusing the menu. I had spotted a handsome plate of tuna carpaccio and scallops served in their shells being delivered to a neighbouring diner. It made choosing very easy, adding a mixed salad which in Spain normally includes egg and tuna and is very substantial.
When the raw tuna arrived, pretty swiftly may I add, the slivers of translucent fish, doused in olive oil, lemon and sea salt, were the most inviting morsels I'd seen on my trip. The tuna was silky, fresh and an absolute sensation in the mouth. The scallops, sitting in a pool of hot oil and garlic, were the epitome of everything required of a good scallop. Meaty and tender with a fabulous hit of garlic, almost intrusive but just about getting away with it.
The salad was a generous mix of leaves, sweet tomatoes, tuna and white asparagus, served with oil and vinegar in bottles to let you dress everything yourself.
If you're a fish lover, La Escerolla has an extensive menu of fresh fish. About the only thing you won't find is grey mullet, 'sewer' fish, according to Spaniards. Our meal was just over thirty Euros which included two, very large glasses of wine. It's what dining should all be about.
La Escollera,
Puerto Pesquero,
Estepona. tel: +34 952 806 354
Facebook https://www.facebook.com/Restaurante-La-Escollera-Estepona-183448945056268/