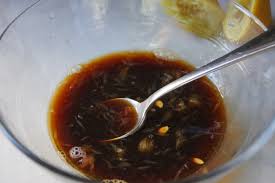 Ponzu is a Japanese dipping sauce. It's far superior to commercially bottled varieties and very easy to make. It's not only great with sashimi or gyoza but you can zing up a salad or I like to dip very rare, thinly sliced fillet of beef into it as a lovely starter.
TIP All of the ingredients can be bought from a Chinese supermarket which nearly always sell Japanese products. I always use Kikkoman's soy sauce.
65ml lemon juice
50ml lime juice
50ml rice vinegar
200ml kikkoman's soy sauce
50ml sake
1 heaped tsp white sugar
2 tbs bonito flakes
8cm piece konbu
good pinch of paprika
Simply mix all the ingredients in a bowl, cover with clingfilm and place in the fridge overnight.
Strain through a sieve and pour into a screw top jar. Shake well before use. It should last up to a week in a fridge.