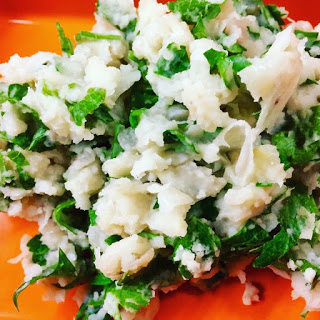 I had eight people coming for a weekend dinner, and with two complicated, labour intensive main courses I wanted a starter I could prepare and store in the fridge. So with a little thought and some friendly advice I came up with this delicious starter. Not only is it simple, it's vegetarian and vegan friendly as well.

400g of butter beans (drained)
2 medium shallots
2 garlic cloves
1 tbs olive Oil
3 tbs chopped parsley
I lime
Maldon sea salt
ground black pepper
Tip: I like the my pate to be a little rough and chunky, if you prefer your pate smooth, place everything in a blender and wizz until smooth.

Finely chop the garlic and shallots. Heat the olive oil, add the vegetables, cover and sweat in the pan on a low heat for around 8 minutes. Stir frequently until they are soft and translucent. Don't allow to brown and this will ruin the taste.

Open a can of butter beans, drain, rinse and place in a bowl.

Using a fork, mash the beans, then add the fried garlic and shallots, mix in some parsley and the juice of half a lime adding six generous twists of black pepper and a pinch of salt. Stir vigorously, cover with cling film and place in the fridge until ready to serve.

Serve in a ramekin, top with a little more parsley and more lime on the side to go on top. Finish with some toasted Turkish sesame bread.

If you prefer a little spice then add one half of a finely chopped red chilli or a green jalapeño either when you fry the garlic and shallots or add raw when you stir the mix. You can also add another spoon of olive oil to add a little richness.

Photo by: Blue Lotus Inspiration