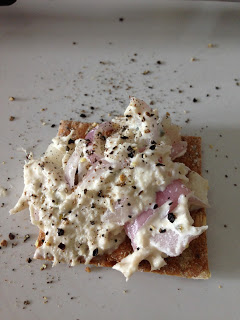 Canapes. They can be fiddly, a lot of work and they're gone in a second. Well, never fear, here's a tuna based canape that packs a flavoursome punch, the topping of which can be made well in advance, is original, takes no time and is just damned tasty.
TIP Please use the best tinned or jarred tuna you can afford.
Makes 20 (2 each for a party of 10 at a drinks party)
1/2 a jar of Waitrose Albacore tuna (75gr net)
20 Peter's Yard square small sourdough thins
1 banana shallot, finely sliced
3 anchovy fillets
2 tbs of small caper berries
1 fat clove of garlic, crushed
1 tbs extra virgin olive oil
juice of half a small lemon
plenty of black pepper
Place the shallot and garlic in a bowl and pour over the oil. Mix together and set aside.
In another bowl, mash together the capers and the anchovy fillets till they resemble a paste. Spoon in the tuna, squeeze in the lemon juice, add the shallot and garlic mixture and give it another good mix with the fork. Refrigerate till ready to use.
Half an hour before serving, take out the tuna. When you are about to serve, arrange the biscuits on a plate, top with a tsp of the tuna and when finished, give the entire plate a very good grinding of course black pepper. A Greco di Tufo would do nicely.