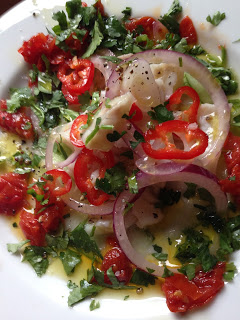 There are many versions of ceviche, a South American dish which is perfect as a starter, a snack or as part of a picnic. The fish is 'cooked' in an acid fruit, here we are using both a lemon and lime.
My favourite fish to 'cook' in this manner is sea bass and although pretty pricey, you only need a little per person.
Pair the dish with a Greco di Tufo (Sainsbury's finest is a great choice at a very reasonable £8 a bottle). It's freshness and mineral finish make it a terrific partner with this good looking dish.
300 gr white fish fillets
juice of 1 unwaxed lemon
juice of 1 lime
1 medium red onion, very finely sliced
1 medium red chilli, finely chopped
handful of coriander leaves, finely sliced
4 tbs olive oil
a pinch of sumac
good pinch of Maldon sea salt
Slice the bass on the diagonal into thin strips. Lay the fish slices in a glass dish. Cover with the onion, pour over the lime and lemon juice, sprinkle on the salt and marinate for half an hour in the fridge.
Take out of the fridge and leave for ten minutes. Add the coriander and sumac and pour over the olive oil. If you like bread with your starter, I'd choose a flatbread warmed in the oven for a few minutes.