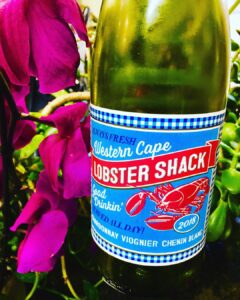 If you're prepared to spend a little more around £10 then step away from the supermarkets and buy from somewhere like Laithwaite's which has a quality guarantee attached. Incidentally, if you don't like the wine you can always return it for a replacement or refund.
This is a truly stunning wine. Stone fruits, honeysuckle and apple blossom on the nose. Crisp and zesty with ripe peach along with luscious, rich apricot and melon on the palate with a long finish. Each grape variety brings its own personality to this party in the mouth; Chardonnay richness, aromatic ripe peach succulence from Viognier and fresh crisp Apple notes from Chenin Blanc harmoniously combine in this gem from the Flagstone Winery in South Africa.
Their own website gives a little more background to the award winning winemaker:
Perfect with seafood, especially grilled lobster bathing in a pool of organic lemon and butter.
Be aware though, they often have wines in very short runs so you really need to buy it while it's there, as another famous supermarket always says, when it's gone it's gone, However, if it's no longer showing on the website it's always worth giving them a call as there may always be a few cases left in the warehouse.
https://www.laithwaites.co.uk/product//2267019