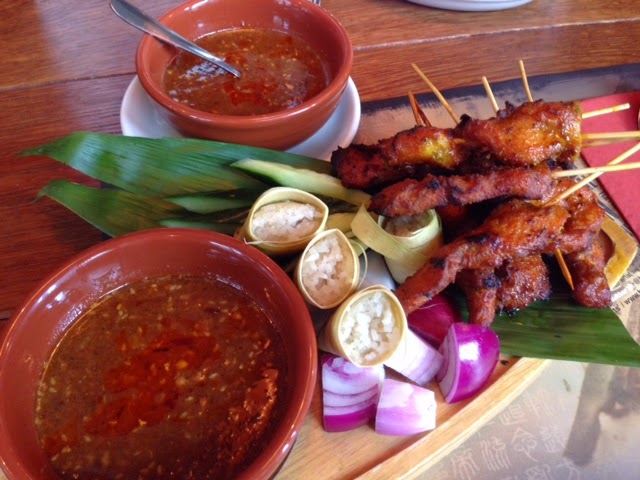 After three hours of retail therapy in Watford, a sprawling town with plenty of choices for food, I decided to give Banana Tree a try for a late lunch. As a lover of spicy, Asian food and having been recommended it in the first place, it seemed logical to give it a whirl.
Banana Tree is an award winning restaurant which serves food from Indochina, an eclectic mix of Thai, Vietnamese, Malaysian and Singaporean dishes.
The restaurant had a lovely ambience and with low, atmospheric lighting and a lovely welcome, it was an inviting start. I noted that for 2.00pm It was really busy – surely a good sign.
I decided to go for an incredibly generous serving of the Kajang Satay Chicken which comprised of ten sticks for £12.50. An authentic recipe as the restaurant says "from the shrine of Satay, the town of Kajang in Malaysia."
proved to be just so. When my dish arrived, the presentation was utterly delightful. It was served with steamed rice wrapped in palm leaf, slices of cucumber and red onion.
There was a generous serving of delicious spicy satay sauce, a lovely thick consistency with chunky peanut pieces. The chicken skewers were grilled to juicy perfection and  I loved the satay sauce so much that I ordered an extra bowl (£2.90).
The service was excellent, value for money bang on. The whole experience a delight. I can thoroughly recommend it.
Banana Tree Indochina Kitchen
9 King Street, Watford,
WD18 0BW
01923 232 523