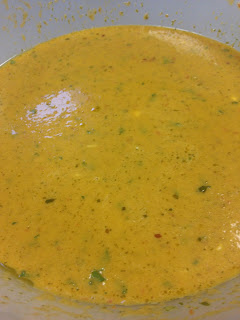 This is one of the easiest sauces to produce.  It packs a punch and has a depth and warmth that belies its simplicity. When I last made it, I had vegetarian, meat eating and pescatarians to dinner and I served chicken, king prawns and portobello mushrooms in a shiny pool of the sauce. It worked beautifully.
TIP Adjust the heat according to taste. Make double and freeze half. You may think that 4 large cloves of garlic are a but much, but as the sauce is cooked in water for twenty minutes, the pungency of the garlic is very much reduced.
Serves 4
1 red pepper
1 medium onion
4 fat cloves of garlic
Large handful of coriander leaves and stalks
1 heaped tsp of Maldon sea salt
1 heaped tsp of paprika
1 tsp of chili flakes
1 tbs white sugar
juice of 1 lemon
4 tbs of white wine vinegar
1 heaped tsp cornflower
1 heaped tbs of creme fraiche
Roughly chop the pepper and onion. Place everything except the cornflower and cream into a pot.
Cover with water and add another small glass of water. Bring to the boil. Lower to a simmer and cook for 20 minutes. Dissolve the cornflower in a little cold water, stir into the sauce with the cream. Pour the sauce into a blender and whizz till smooth.  Pour back into the pan and heat till bubbling and sling in some raw king prawns for about two minutes, till pink. Serve with rice and extra finely chopped chillies and a coriander and onion salad (see recipe).